I've been fixated on learning how to linocut for a while now, but because I didn't have the supplies I was forced to merely drool over other people's creations on Etsy (see the post
here
).
Luckily, I shall be forced to salivate no more! I used the birthday money from my grandparents (thank you grandma and grandpa!) and ordered my supplies from Dick Blick. I'm super excited. No really, I am.
Deciding what to buy took a while--a couple of weeks worth of research, in fact. At first I was simply going to buy the Speedball starters kit, but I decided I wanted more ink, more blades, more linoleum blocks, and basically more of everything. So, I prowled art forums and blogs and finally came up with a "kit" that costs around $50.
In case you are also looking to get into linocutting, here is my carefully compiled list of supplies. Click on the pictures to go to the Dick Blick item page.
1. Speedball Linoleum Cutter
$7.95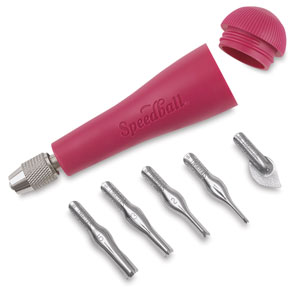 It's just a standard linoleum cutter, but it comes with a few more blades than the cutter included in the starter kit. I decided it was worth the money.
2. Speedball Soft 4" Brayer
$10.84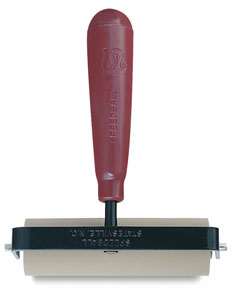 Before ordering this, I did a lot of searches regarding hard vs. soft brayers. The consensus among the printmaking community on the WetCanvas forum was that soft brayers are better for linoleum block printing. I figured they were probably right. After all, who am I to argue? And, this brayer is a lot nicer than the one that comes with the starter kit. Just saying.
3. Bench Hook/ Inking Plate
$8.69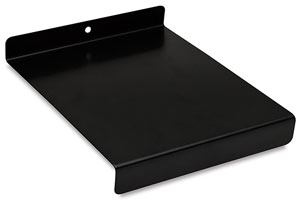 Apparently, this is necessary to have if you want to minimize the risk of gouging yourself with the cutters. I'm very into taking precautions, so if the internet tells me this can save me blood spillage I will listen without hesitation. Plus, it can be used for inking. Although many printers use a piece of plexi-glass, I don't have random bits of plexi laying around the garage. This seemed like a better option.
4. Mounted Linoleum Blocks
5" x 7" block costs $2.09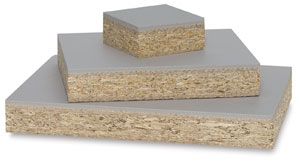 I did a lot of research regarding mounted vs. unmounted linoleum. What I concluded was unless you have scraps of wood or plexi-glass laying around, mounted pieces are better. Although it seems easy enough to mount your own linoleum, I decided I didn't want the hassle of it. Plus, because I am pulling prints by hand (without a printing press), the blocks offer more control (or so I read).
Revision: The mounted blocks are nice; however, I now think unmounted linoleum would be much more economical, and would not have any negative effect on the printing process.
5. Hosho Paper (48 9" x 12" sheets) 71.5 GSM
$6.86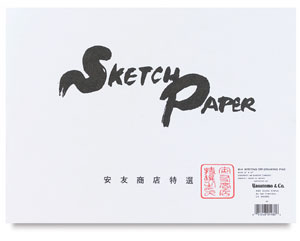 Hosho paper is (according to my studies) very good for lino printing. I could also have gone with a 100 percent cotton paper, but those are very expensive. For the price, this paper seemed like a good one to try. If I decide to invest in better paper later, I'll probably buy it by the sheet at Michaels or something. Dick Blick makes you order a minimum of 10 sheets. And at $3 or more a sheet, that wasn't something I wanted to do.
6. Speedball Water Soluble Inks
5 oz. black ~ $5.95
1.25 oz. red, yellow, blue, white ~ $2.60 each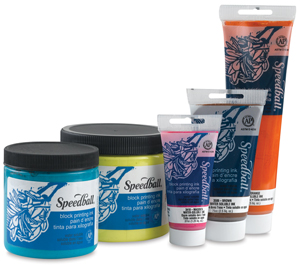 Speedball is a good starter ink (although many advanced printers dislike it), and I decided on water based to avoid having to use turpentine or mineral spirits for clean up. Hopefully the inks are good... This is the only part of the purchase I'm worried about.
I can't wait for all of my loot to come! Too bad they will arrive too late for spring break... I guess I'll have to use weekends to experiment. I also ordered seven linoleum blocks to start out. I'm very excited!
Happy birthday to me... happy birthday to me... :O)